Mothers not only seek skin friendliness, but also extra absorbency, as far as diaper choice is concerned!
Novelino Sensitive diapers are designed to offer sensitive care for sensitive baby skin and proven effective protection. Thanks to the super-absorbent core that embeds the Dry Matrix technology, Novelino Sensitive diapers belong to superior quality class absorbency levels, based on measurements of specialized laboratories (Mannequins / Courtray method).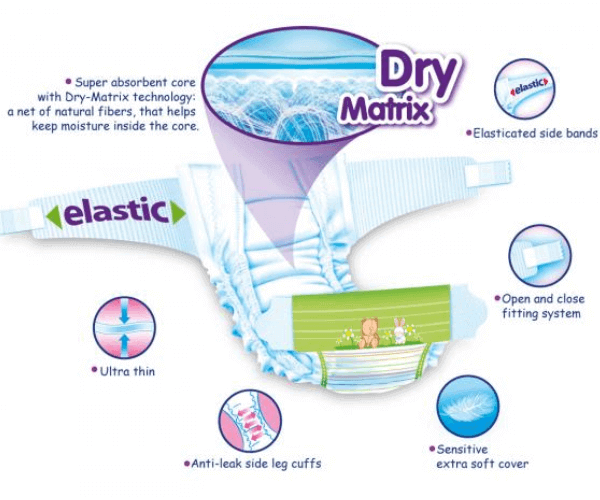 The Dry Matrix technology consists of special super-absorbent pearls that along with a net of natural fibers keep humidity away consistently, irrespective of the baby's movement or posture (standing, lying on one side, upward-facing or face down position).
The advanced designed 3-D core, offers your baby the dryness that he/she needs both during day and night, where the need for dryness is bigger!
Novelino Sensitive has also side safety barriers, which offer extra protection of side leaks.
Novelino Sensitive product range includes: baby diapers, baby pants, baby wipes and bedpads, designed to meet the special skin-care needs of the babies.
Novelino Sensitive are the first disposable baby diapers in Europe, to be Oeko-Tex® Standard 100 certified for the absence of more than 200 harmful substances.
Clinically tested, with excellent results after a 4 weeks study on babies under dermatologist and paediatrician supervision, by Dermatest Laboratory (Germany).
Recommended by the Hellenic Midwives Association.
Recommended by the Greek Society of Paediatric Dermatology.